About
Timetoast is a place to make timelines on the web. Use it to create historical timelines of important events, build a timeline for your hot new product launch or plan your next family vacation. It's up to you and your imagination.
Timetoast timelines was released publicly in April 2008 and has since been mentioned in articles by PC Magazine, Lifehacker, The New York Times, Mashable, Adobe, 37 Signals and countless others.
Contact
If you would like to get in touch, head over to the contact page.
Brand and trademarks
Timetoast's marks include, but are not limited to, the Timetoast name, logo and any word, phrase, image or other designation that identifies the source or origin of any Timetoast products or services. We ask that you respect our trademarks and we cannot approve any company names or application names that incorporate a Timetoast trademark, or that are confusingly similar to Timetoast's trademarks. Timetoast is a registered trademark of Daniel Todd Ltd.
About the founder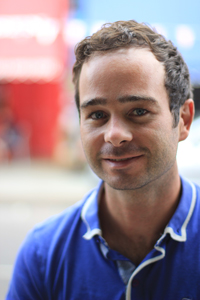 Timetoast was founded by Daniel Todd.
Before independently founding Timetoast he studied business management in The Netherlands and worked as a creative technologist in various advertising agencies and small technology startups.
He now lives in the U.K. while continuing to work on Timetoast timelines as well as his latest project Typecurve custom art.
Friends of Timetoast
Here are some other projects you might like to take a look at: